Week of June 24 to July 1
The FDA approved the country's first marijuana-based prescription medicine. And Bernie Sanders was like LIGHT ME UP! This checks ALL my boxes! I'm going to Woodstock AND treating my glaucoma!
It was revealed that President Trump has not eaten at a restaurant not owned or licensed by the Trump Organization in the United States since his election. But that hasn't really been a challenge for him now that Frito-Lay is on Seamless.
In an effort to appeal to an upscale market, McDonald's announced they will start testing McCafe pastries in 195 Orlando-based restaurants. Because if you want to make your establishment classier, Florida is the best judge of that.
The CDC reported that only 23% of Americans get enough exercise. But to be fair, who's really trying to prolong their life in this hell?
Speaking of innocents dying, the Supreme Court is all but certain to outlaw abortion. Just kidding. It's important to understand, no matter how you personally feel about abortion, if our Senate allows a documented sexual predator to change the Supreme Court in such a way that will deprive women of their reproductive rights…well at the VERY least I think we're all gonna have to jump on that prescription glaucoma bandwagon.
Week of June 17-24
An unusual-looking animal gunned down in central Montana, who many believed was a dangerous dog-man turned out to be an ordinary gray wolf minding its own business. The man who shot the wolf is seeking representation from the same lawyer who defended George Zimmerman.
A house in southern Finland caught fire after someone tried to get rid of a snake by spraying it with gasoline. Silly Finn, don't you know the best way to repel a snake is with an eagle?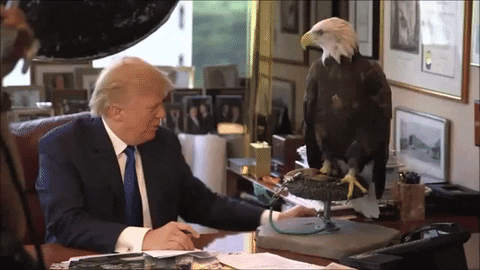 An Indiana state trooper is receiving widespread praise for pulling over someone for driving too slowly in the left lane of an interstate highway. The state trooper's next stop: people who pause to check their phones at the top of subway stairs.
Instagram announced they will increase the time-limit on videos from one minute to 10 minutes, which means now Busy Philipps will have to show us how long she actually lasts at lekfit.
AMC Theatres unveiled a $20/month subscription service to rival the flagging MoviePass. Said a spokesperson for MoviePass, "Our service continues to offer the best deal for blub-blub-blub-blub" as they went under.
Week of June 10-17
IHOP is temporarily changing its name to IHOb, which is how I've always said it because I only eat there when I'm hungover and/or congested.
Oprah has signed a production deal with Apple. That's right, Apple has Oprah now, so if they want, they can force us to buy a new phone every week and we'll do it.
Natalie Portman has a new documentary out on the dangers of eating animals, so you're not better than her.
Russia denied the Nigerian soccer team's request to have chickens at their match because they're poorly behaved and present health hazards. Meanwhile we're told Trump can't attend because "work."
Paul Manafort went to jail today after charges of witness tampering while he was out on bail. So yeah, it is a witch hunt. [photo of Manafort doctored to have green face and witch's hat]
Week of June 3-10
An FBI agent accidentally shot a civilian in the leg while he was off-duty in a Denver nightclub, doing a backflip with a loaded gun in his pocket. So, yeah, I'd say today, we're gonna give one to Trump. The FBI could be a little more together.
President Trump stated that asbestos can protect against fires, suggesting the World Trade Center might not have burned as violently if it had had more asbestos. I say we give him that one too and pump the White House full of asbestos!
Reese Witherspoon is going to star in the third installment of the Legally Blonde franchise. I don't know though, it just doesn't seem like the right time for a female-driven movie, that will likely include a liberal legal activist take, and is a revival of something that started in the '90s…is there a market for any of that?
Facebook has confirmed that it gave user data to Huawei, a Chinese smartphone company that US intelligence agencies have tied to the Chinese government. It's like China was feeling overshadowed by Russia, so Facebook had to prove it loves them both equally.
It's National Best Friends Day. To celebrate, Trump tried to invite Putin to the G7.
Week of May 27 – June 3
The Army announced it was considering new rules that would make Arlington Cemetery, now near capacity, more exclusive. They plan to replace the cemetery's bodegas with a fair trade coffee shop and a Warby Parker.
Tonight is the series finale of The Americans, and everyone's speculating who's going to die. I'm not sure why—we all know it's democracy.
Kim Kardashian visited the White House today to discuss prison reform. In other words, she visited Trump's current residence to talk about spiffing up his next one.
Today Rudy Giuliani told George Stephanopoulos that the reason you don't let the president testify is, quote, "our recollection keeps changing." This is also the reason people give for having laughed while watching The Big Bang Theory.
The governor of Vermont signed a law to pay $10,000 per person to anyone who wants to come to the state to work remotely. So I guess we know where Tori & Dean's next reality series will be set.
Week of May 20-27
Stacey Abrams became the first black woman in the U.S. to become a major party's nominee for governor. That's right, the country is over 240 years old, and we only just let a black woman compete for a chance to lead one state. That's like celebrating if Mike Pence watched an episode of Will & Grace.
Apple has signed a deal with Volkswagen to produce self-driving cars. BMW and Mercedes had previously rebuffed the tech giant because they do just fine on their own getting people to over-pay for status symbols that stop working after two years.
The Guardian was among the first to report that exit polls "suggest Ireland voted to relax abortion laws." Because it always goes well when you suggest anyone relax about abortion.
Harvey Weinstein has turned himself into the police, facing charges of rape, a criminal sex act, sex abuse, and sexual misconduct. It's like God jolted out of the drunken stupor he's been in for the last couple years and was like, "crap I better give Earth a win or someone'll start asking questions!"
The NFL's owners voted to fine teams whose players don't stand during the national anthem. I'd be OK with that if we could also fine people who don't know all the lyrics. [cut to footage of Trump struggling to remember the lyrics during College Football Playoff National Championship game 1/8/18]